That's really cool! I just ordered some stuff to make a build myself so can hopefully post it here later.
I call this my DexMorg Build because it is clean and messy all at the same time… Hum along if you know the theme song…


Fun fact: This is my first XDA keycap set and I am really liking it so far! Another one: The spacebar is in fact upside down

Now I just need to wrap it up in some saran wrap and put it on the shelf

I got my GMMK Pro with Celestial caps, brass plate, Kailh Purples a blue cover plate and a gold knob!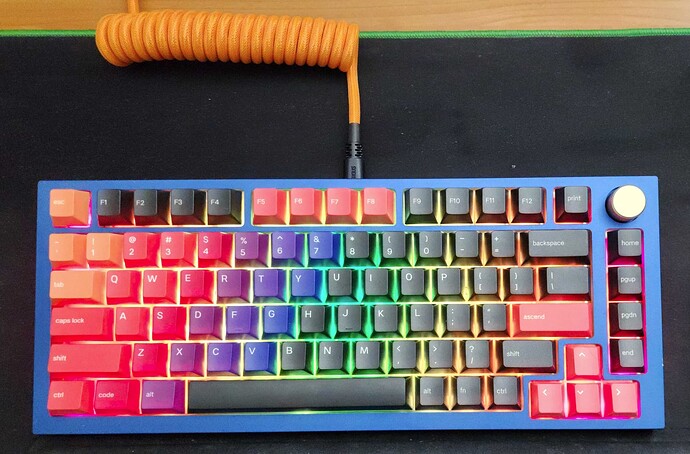 I really wish I had a Glorious logo key cap for my esc key!
The purple switches are buttery smooth.
I love my keyboard. the build quality is fantastic.
The aluminum body and frame are flawless!
Perfect, gloriously thocky.
Gloriously Yours!
Dave
I moved your post about the troubles you're having with core Here There's a couple links on the top of post of questions people have already had as well as it being a post about core so people that might be looking through might be able to help if they've had it. Haven't dabbled in core much myself besides rgb but hopefully someone can help you out!
Nice build! I love the Pac-Man keycaps. What switches did you go with?
HA! I totally forgot


Ended up going with some DNDKB JingWei 53g Linears (Knock-off Glorious Lynx imho)
They are smooth and soft with a nice sound to them. (Still working out the audio space for recording the keebs but I also have Switch Film - Glorious Switch Film (Not needed for these switches, but I wanted to try them out) and they all sound really even.
Looks awesome

I love it

I love it too. I'm really hoping they release a glorious gold top frame for the GMMK Numpad so I can get that to match! I was going to do a glorious gold rotary knob and cable with a different top shell but the cables were out of stock

and I was gonna go with the nebula key caps (or celestial fire) but the grapefruit ones dropped between the start of me customizing my flexkit bundle and checking out, so I thought it was just meant for me to snatch a set of those up! But I think my grapefruits would look better on my white ice gmmk (1) so I'm looking for suggestions for a different set of caps to make this build pop a little more. (Either that or just a nice set of novelties in to give the board more contrast)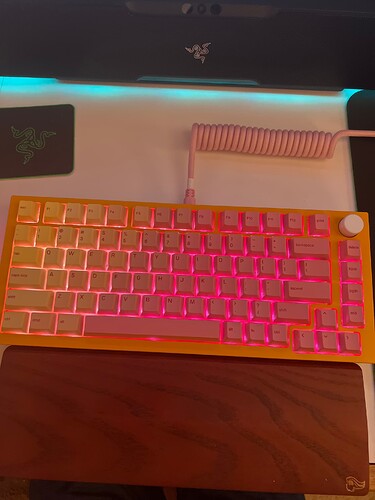 need opinions: did I get the gradient colors correct on the lighting? or are they too subtle to notice? like i can barely tell myself. Gonna be switching the caps to Celestial Fire once i get them in, and im gonna move the caps to a different board, but i wanted to see if i could get the colors correct for some per key effects on the next board they go on. The gold top frame throws off the subtle oranges and pinks in this set, at least for my eyes. theyre freaking gorgeous, but I just think theyll look better on a different board or with a different top frame
Moved the post here for your build. I really like the colors and the backlight matches incredibly well!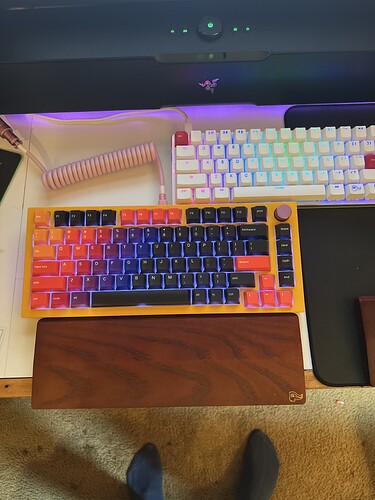 @LiquidMaverick
thanks! Changed it up though; gonna add the grapefruit caps to the gmmk compact in the picture instead
Well @starkillerhunter80, I believe you have reached the apex of a beautifully themed setup. What a sight!
First keyboard build!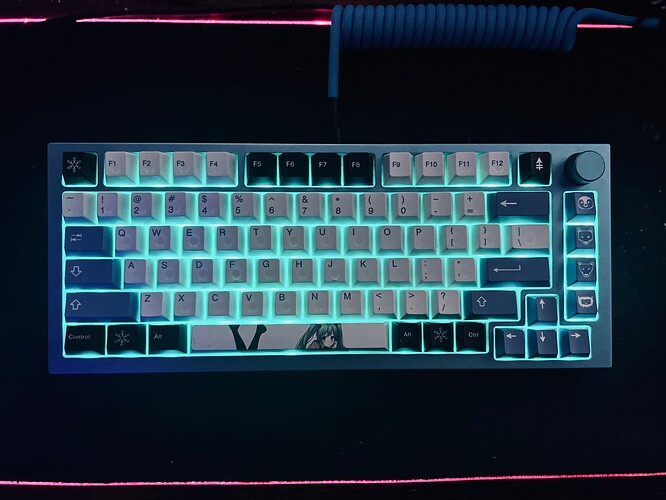 Key caps are OMO Pole Circle, and a Hatsune Miku spacebar.
Aqua top frame, polycarbonate plate, Flex kit with medium gaskets, plate foam, and the thin case foam. Panda switches
For mods, I did the tempest tape mod, lubed the switches and stabs, and put some tape around where the screws go into the top frame.