Very nice! Looking forward to the final build
Oh, the navy blue top plate, I like. Looking forward to pics of everything pieced together.
I had some heartache over going with a top plate that was a specific color… not something more neutral like e-white or black.
Hopefully it comes out okay! Does make you think a bit harder about the overall setup.
Well, at least it's a swappable top plate and not an entire kit. I honestly love that feature of the PRO, and hope they keep growing the inventory of colors. I'm still waiting for a deep purple or burgundy, because I have my eye on caps that would go well with those colors.
Oh wow, switch pads? That's a little more than my shaky hands can manage. You're going big with the modding and now I am really jazzed to see the end result and what you think of the final product.
I'm going to need a before and after audio test pretty please!
Yeah, the top case is quite easy. I just didnt want to buy too many of them! Yeah I want some more deep rich colors myself. Seems that there are some good keycap colorways that play well with them.
Yeah, switch pads… lol I don't know how much it can or will do, but I will definitely provide some feedback on it.
I don't know if I have my before sound, but I will see what I can do! I will get a sound test once done.
After is perfect. I've heard one with switch pads. I would love to hear another.
Only slightly disappointed the Glorious brush doesnt fit on their lube station. Otherwise everything works well. I think most of the accessories are quality, but, they definitely are making margins on these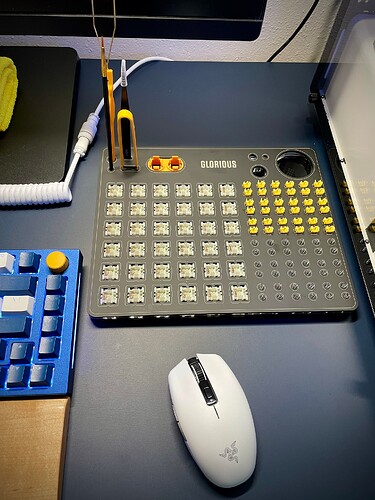 Sounds amazing! What switches are you using?
Thanks!
Just cheap Gateron Milky Yellow!
This sounds like another argument in support of switch pads. Shhhh… don't tell @Pseudo
I'm venturing into lubing switches soon and milky yellows are first on the list.
If you get some, they definitely need the lube love.
I lubed these with my own mix of Superlube oil and grease. But, the usual choice of 205g0 is fine.
I haven't tried G-Lube yet, I hear it's a bit thicker than 205g0, which I would probably like, since what I make is slightly thicker as well.
Cheap and honestly they sound and feel great to me.
I have a hard time not putting them back in after I try other switches LOL.
Gat Milky yellows are good switches.