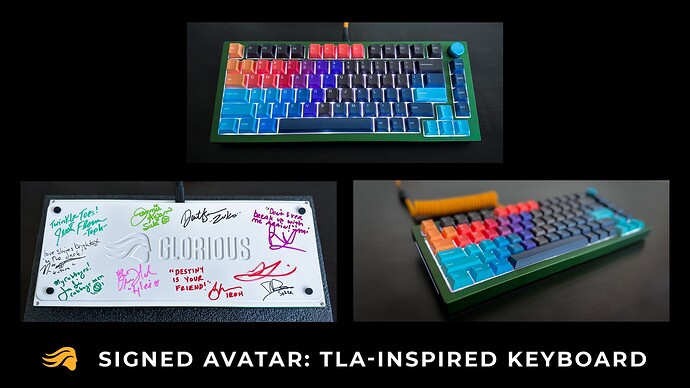 Long ago, the four nations lived together in harmony… in the form of a keyboard! This keyboard is inspired by the four nations in Avatar: The Last Airbender, and has been signed by the following cast members:
Mae Whitman - Katara
Jack De Sena - Sokka
Jessie Flower - Toph
Dante Basco - Zuko
Jennie Kwan - Suki
Grey DeLisle - Azula
Cricket Leigh - Mai
Olivia Hack - Ty Lee
Greg Baldwin - Iroh
James Sie - cabbage merchant (My cabbages!)
This is the ultimate board perfect for any fan of the series!
Build Information:
Earth, Fire, Water, & Air Nation-inspired Colors
GMMK Pro Flex kit in E-White - ANSI (US) Layout
Polycarbonate Switch Plate
Lubed Fox Switches (Linear)
Celestial Ice & Celestial Fire Keycaps
Forest Green Top Frame
Aqua Blue Rotary Knob
Glorious Gold Coiled Cable
How To Participate:
A separate giveaway will be held for each board, announced on our social media channels.
Each person can get up to 5 entries per giveaway.
At the end of each giveaway period, all entries will be pooled, and a winner will be chosen via random number generator. Winners will be announced via our Twitter & Instagram accounts.
Entry Methods
Entry Time:
Giveaway Start: Friday, February 17th at 10:30 AM CT.
Giveaway End:Thursday, February 23rd at 11:59 PM CT.
Winner Chosen: Friday, February 24th.