Hey all, I recently picked up a new mouse and decided to try the D- after my cat knocked over a massive glass of water onto my desk and ruined my Model O.
One of the first things I noticed was that the mouse didn't seem to track properly, it was easy to notice because it got my head blown off during a gunfight in Hunt: Showdown lol. Anyway I started looking and it seemed like the sensor was angled strangely / not flush with the base of the mouse body. Anyway, I had planned on swapping in my custom blue cable on my Model O anyway and I cracked it open to swap the cable. Upon doing so I discovered that the PCB wasn't seated in the housing of the mouse properly. Not sure if came from the factory like this, or if I got someone else's mouse that was repackaged.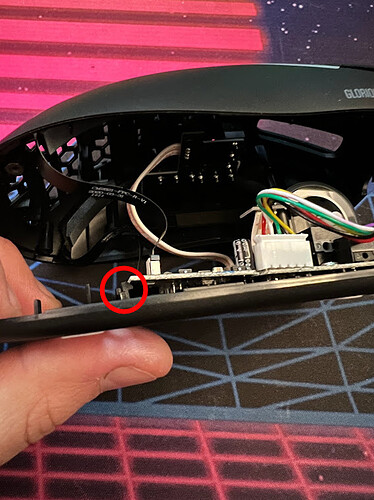 Either way I wanted to point this out and hope Glorious can get this under control. I really hope it's a factory issue, because I really don't want a mouse that somebody else already used. I've worked in IT for far too long to know just how nasty some people are and I really don't wanna share input peripherals with another living soul.
TLDR: PCB wasn't seated properly in my brand new mouse, I fixed it when I went in to swap the cable and it's no big deal, just hoping it's not a trend.