okay, thanks for your help.
edit : turns out my computer is just very laggy!
Okay, I was able to fix it by closing one of my game launchers i had in the background. Everything works fine now, and i feel very dumb. Usually this wouldn't be a problem but my setup is powered by an office laptop and i dont have the money currently to buy a PC.
No Worries, @SwaggyAlpaca as @rice mentioned you can try turning down your polling rates a bit, and that might help spare you some efficiency
Yeah man, no worries. I'm just glad you where able to figure it out and like @xXiceXx & @rice said it might also help to lower your polling rate just a bit to give you just a little extra wiggle room
If you have a lube brush, try getting it into the stab housing and wiggling it around. Hopefully you can redistribute some of the lube without having to disassemble the whole board.
Thanks for the post. Giving me info to have for my future keyboard.
hey! i have a few more questions regarding keyboards, so i figured i will continue posting here instead of making a new thread.
i found these durock stabs on prime keyboards, and i was wondering which spacebar size to get for the gmmk pro.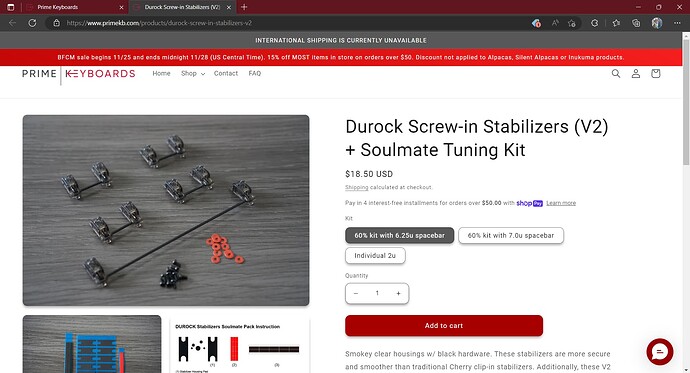 also, i want to make my keyboard sound very poppy, and high pitched. im most likely going to get some alpacas, but was wondering the best mods for that desired sound, (foam, tape mod, etc.)
thanks!
GMMK Pro spacebar is 6.25u I believe
Indeed as @Fenn said 6.25u
Alright, thanks I might have some more stabilizer questions.
Forgot to mention im also going to be going with some @Dozill stabs.
Sorry Dozil! somehow it tagged you when I meant to say Durock's.
That is what I figured you were trying to say.
All good, we can call them Dozill Stabs from now on hahahaha

Sorry for so many posts (really) but was wondering what mods I should do to the GMMK pro to make it sound good. Does anyone have some recommendations? Im using "Dozil stabs" (durocks) and Alpacas.
It's all preference. Don't do a mod just because someone else did, etc. You have to play around to get the sound you want.
Okay, that's what I figured, im just nervous if I take it apart so many times im going to break it.
For a higher-pitched, poppier sound, you may actually want to look into a long-pole switch and ABS keycaps. I can highly recommend Akko Vintage Whites